Over time an in ground swimming pool's vinyl liner will start to dry out, crack, rip, or shrink.  While that might sound like a horrible thing to happen, it really isn't the end of the world.  Now don't get me wrong, having a fiberglass pool that doesn't use a vinyl liner is great but you have to pay for that upfront.
The biggest killer of vinyl liners, or any pool equipment for that matter, is unbalanced chemicals.  The more your chemicals fluctuate and "bounce" the more damage you do to your liner.  Vinyl liners and concrete pools constantly absorb chemicals, when they are balanced not much happens but when they bounce it starts to dry the liner out.
Getting Quality in ground swimming pool liner installation is important.  You don't want folds or wrinkles in your liner and you don't want the liner to stretch too much which could shorten the life of your in ground pool liner.  We have been replacing pool liners for 28 years so you know you will be getting quality installation.
Choose your pool liner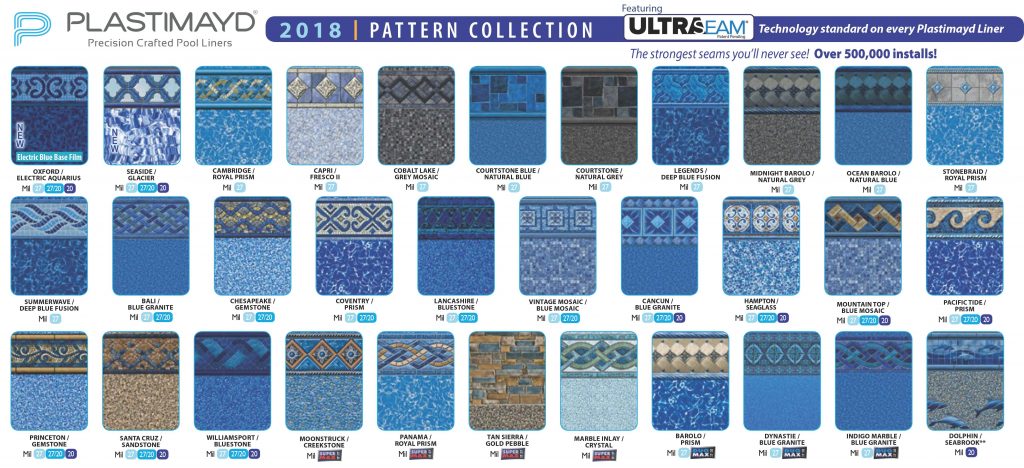 Click to Enlarge
We do not replace above ground pool liners.
How much will it cost to replace my pool liner?
To get a price quote… here's how it works.
Please call or email us and give us the following:
Length and width of your pool. (approximate size is fine within 6 inches)
Email us a photo of your pool. (If you can't email a photo please call)
Tell us what liner pattern you want and if you want 20 mil or 28 mil. or "Ultra Mayd" (double clear coat)
Tell us if your pool is a "sand bottom" or "concrete bottom" pool.  If you don't know, that's ok.
Sand bottom pools may need to be troweled before the new liner is installed.  If so, the price will be more.
We will call you and give you a price after we receive the above.
Please note the following:
If you have answered the above question we do not need to see the pool to give you an accurate price quote.  If you agree to the price and want us to replace the liner, we will come and take exact measurements, have you sign a contract, and we will collect half down at that time.  The liner will be ordered and we can usually expect to receive the liner within 7-10 business days.  When the liner arrives, we will call you and schedule an installation date.  Expedited liner production is also available for an additional $175.00.  This will cut the production time to 4-5 days.